2 tags

7 tags
2 tags
3 tags
6 tags
2 tags
5 tags
4 tags
5 tags
6 tags
Unsolicited life advice:
Don't read Tiny Beautiful Things by Cheyl Strayed during the first week of the Olympics. You will run out of feelings and the only solution will be frozen yogurt or a nap. Or both.
3 tags
June 2012:
#25 I know, I know, June's not even over yet. Whatever. I've only read only one book so far in June and I'm going on vacation today and don't want to worry about telling you what I read. Not that I really would anyway, but I do really really really want to tell you how much I LOVED #25: The Count of Monte Cristo by Alexandre Dumas. I purposefully took time with this one so I want to explain it...
2 tags
3 tags
1 tag
I get knocked down, but I get up again.
Accidentally beat up my arm at the library a couple of weeks ago when I walked into a shelf. Bruise status: green. Now considering reading A Game of Thrones on the stationary bike at the gym. Lookout world!
6 tags
1 tag
2 tags
As someone who loves this kind of hype,
I actually feel a twinge of guilt about not caring for The Hunger Games. I mean, I'm sorry? I guess?
1 tag
1 tag
1 tag
3 tags
2 tags
1 tag
"Does character develop over time? In novels, of course it does; otherwise there..."
– The Sense of an Ending by Julian Barnes
3 tags
So I have this thing.
It's where I check out 95% of the stuff I read from the library but if I love a book then I want to buy it for myself. Because of this, I go to a bookstore and have no interest in books I haven't read then someone has to tell me what to buy. This seemed somewhat counterintuitive until I realized that if I kept up this...
3 tags
2 tags
"Dear Lord. It's more unrelenting and out-of-control than any flesh eater it's..."
– Michael Hingston regarding Colson Whitehead's Zone One in Georgia Straight. Michael put it a lot more delicately than I could because I often muttered much more colorful language as I tried to get through the book. It was just that painful. 
2 tags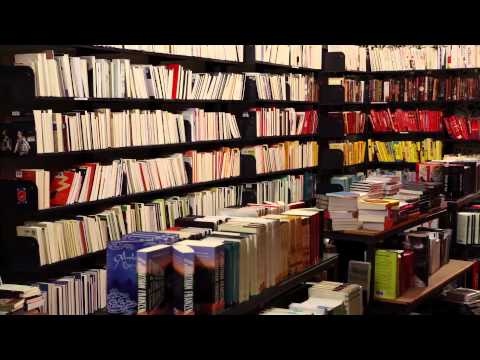 1 tag
4 tags
Now That Books Mean Nothing →
by Nell Boeschenstein: It's not easy or appropriate to tell people who love you and who are trying to help you that what they are doing is not helping, that books are not what you want or need, that what you want and need right now are flowers, letters—notes, even—stupid movies, something that might help you feel pretty, emails that contain funny anecdotes from the outside world. That what you...
3 tags
1 tag
4 tags
The Books They Gave Me: Capote. →
I'm always a sucker for stories like this. And for Truman Capote.  thebookstheygaveme: Nessa and I bonded during our junior year of high school over books (we couldn't keep our noses out of them) and shared dislike of our boring rest-stop of a town (a dozen gas stations and fast food joints split in two by a rushing freeway). Every day on the bus we'd talk about the books we…
1 tag
1 tag
Ryan Adams - Dirty Rain Last time I was here you...
1 tag
Just now at the library,
I decided not to pick up my held copy of Murakami's 1Q84 (because I just can't handle it at the moment) and instead checked out a cookbook called Southern Biscuits. It was the right thing to do.
1 tag
Today is World AIDS Day →
Listen up, folks! It's the time of year when people are all "want! want! want!" but it's also the time of year when we should all be decent human beings. If you can't make it to the Housing Works Bookstore today, find a time to read a book and have a cup of coffee there. It's still one of my favorite places. Get more info on World AIDS Day here.  ...
1 tag
letsbeglad: Rouge Wave - Jingle Bell Rock ...
2 tags
I can always count on HTMLGIANT to ask the tough... →
2 tags
Three thoughts for the three Tana French novels:
1.  The Likeness ≥ In The Woods > Faithful Place 2.  Is it just me or do these books get progressively more Irish? Like the accents? The Guinness? I don't get it. 3.  They all have gaping plot holes but are perfectly pleasant mystery reads when you don't want to have to think. And I'm always a sucker for that.
3 tags
1 tag
The Books They Gave Me →
To whoever began this particular project, it is absolutely wonderful.
1 tag
3 tags
"The books somehow made him smaller, not larger, as if they were whispering,..."
– James Wood in Shelf Life: Packing up my father-in-law's library Y'all, if (when) I die, please don't let James Wood write about my personal history and library for The New Yorker.
2 tags